October 24, 2018
My Favorite Window: The John Stevens Memorial Window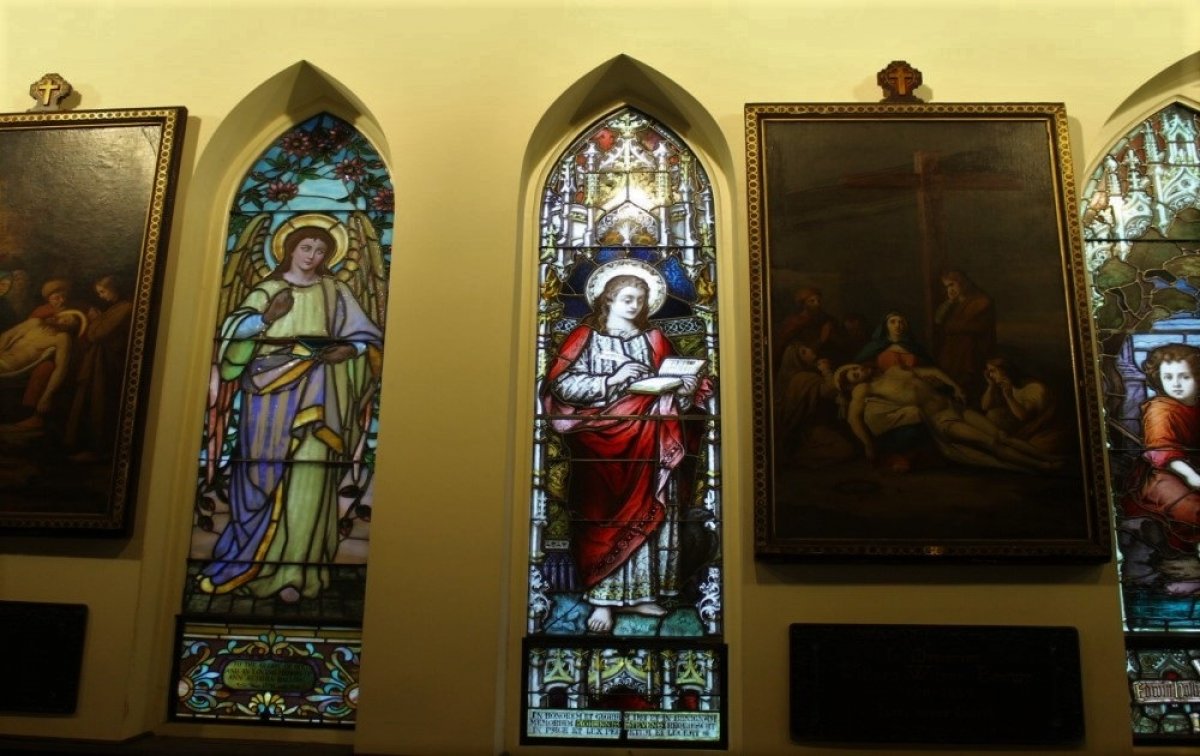 The Church of the Transfiguration is graced with many beautiful stained glass windows. Each carries with it its own story, and adds to the unique character of the building. Every parishioner I am sure has their own favorite, but people are often surprised when I tell them mine.
As you enter the nave of the church and look to your right (on the south side of the building) you will find a window dedicated to John Stevens (on the window, his name is Latinized to Johannis Stevens). The subject is St. John the Apostle, showing characteristics that are commonly associated with him such as holding a book, in reference to the writings traditionally attributed to him. He also stands next to an eagle, which is argued to symbolize the high-soaring, inspirational quality of these writings. The window was made in Munich, and was actually designed by the second rector – the Rev. George C. Houghton. The window was installed in 1901, and it is this window which is easily my favorite.
You may be wondering, who is John Stevens? John Stevens died in 1895 at Castle Point in Hoboken. He was only 38. John was a member of the highly wealthy and influential Stevens family. The family had created the city of Hoboken, and John was First Vice President of the Hoboken Land Improvement Company, the Hoboken Ferry Company, and a Director of the First National Bank of Hoboken. He died of a sudden heart attack on January 21st1895. He was survived by his wife Mary, his young son John Stevens Jr., and his daughter Mary Picton Hammond.
Two years later, on April 29, 1897, his widow Mary married Mr. Louis H. Hyde (who also happened to be John Stevens's lawyer) in the Church of the Transfiguration. Mary had moved with her new husband to NY and become a member of Transfiguration. In 1901, she paid for a stained glass window to be installed in Transfiguration in memory of both her deceased husband John Stevens and his son John Stevens Jr., who that year died tragically young at the age of 10.
Until recently, I lived in Hoboken and had been the parish historian and a vestry member for several years at All Saints Episcopal Parish. John Stevens was a warden and significant benefactor to Trinity Church in Hoboken (which merged with two other parishes to form All Saints). It is Trinity's church building that is still used by that parish today. The window at Transfiguration is incredibly similar to a window in the baptistery built in John Stevens's honor at Trinity.
The John Stevens memorial window is therefore a link between the two Episcopal parishes that have meant the most to me. Every time of I enter the Church of the Transfiguration I make a point to admire it and reflect on its history.
---